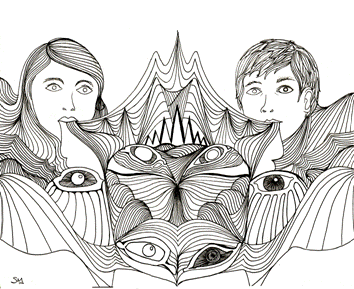 Long overdue but still potent, Issue three of Feral Debris contains interviews with the newly reactivated sci-fi proto punks Simply Saucer, Katheryn 'Shishonee' Krupa; harpist with The Trees Community a 1970's Christian commune responsible for the classic acid folk LP 'The Christ Tree', New Zealander Peter Wright- creator of finely wrought ambience and drones, and the now defunct skronk trio Lambsbread. Also included are contributions from Stuart Crutchfield, Mr Dorgon, Blue Firth and the Sound of Drowning, plenty of record reviews and art from Anna Kraay and Sian Macfarlane.

The accompanying cd-r contains small 'a' ambience, guitar rumblings and small hairs on the back of your neck tingling from; Core of the Coal Man, Alistair Crosbie and Peter Wright, some sharp jazz rummaging from Owl Xounds, Solar Fire Trio and Sann Yassin, a little improv tinkering from Patrick Farmer and a large slice of The Michael Flower Band (featuring John Moloney from Sunburned Hand of the Man on drums for good measure). It's a goodie.


£3ppd in the UK/ elsewhere get in touch for prices.